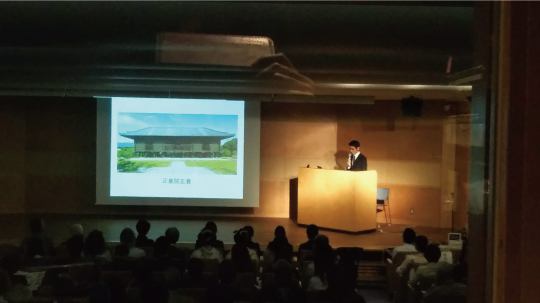 Outline
Nara National Museum has established a Supporting Member System to solicit wide-ranging support for our activities. These activities include the collection, conservation, management and display of cultural properties as well as research and educational initiatives.
We look forward to receiving your generous support.
Membership is valid for one year (until the end of the month one year from the month when membership begins)
Membership cannot be cancelled or changed after payment is received. Thank you for understanding.
Please keep your transfer receipt safe until you receive your membership card.
Inquiries
Business Development, General Affairs Division
e-mail:
Information Based on the Specified Commercial Transactions
| | |
| --- | --- |
| Operational Organization | Nara National Museum |
| Operational Director | Sonobe Kuniteru, Deputy Executive Director |
| Address | 50 Noboriōji-chō, Nara-shi, Nara 630-8213, Japan |
| Telephone Number | +81-(0)742-22-4478 |
| Fax Number | +81-(0)742-26-7218 |
| Website | https://www.narahaku.go.jp/english/index_e.html |
| Application and Payment Method,Other Fees | Please access this page. |
| Time of Payment | When confirming the donation. |
| Time of Shipping, Return and Exchange Policy | None |
| Privacy Policy | Please access full policy from this page. |
How to Donate
Payment by credit card
Enter the donation amount, fill in required items(*)and select 'Add to Cart' on the page of the project you wish to support (donors can make multiple donations).
After checking the 'Cart Contents' on the cart page, please proceed to checkout.
Please fill in the necessary information(*)

.

After checking all the details on the 'Checkout' page, please confirm your donation.
*We accept the following cards.

*Notes regarding credit card payments
Credit cards can only be used by the person who owns the card.
Payments in multiple installments are not possible.
As a general rule, changes cannot be made and funds cannot by returned after a payment is made.
The payment will be taken from the designated account on the date determined by your credit card company. Please consult the statement issued by your credit card company for details.
Please contact your credit card company if an error occurs after payment is made.
Payment by bank transfer (Limited to addresses within Japan)
Please contact below and provide your name and address. We will send you a Donation Application Form.

*Contact:
Business Development, General Affairs Division, Nara National Museum
Telephone: 0742-22-4450 (direct line)
E-mail:

*You can also apply for membership at the reception at Nara National Museum (or in the Buddhist Sculpture Hall).
You will be issued with a temporary member's card, so if you apply before visiting the museum, you can use your membership benefits on the same day (the regular member's card will be sent by post a few days later).
Reception hours: From 9:30 to 30 minutes before closing on days when the museum is open.