Outline
The Kōrin Kimono features a design of autumm grasses and flowers by the renowned Japanese artist Ogata Kōrin.
The Kōrin Kimono Restoration Project is undertaken by Tokyo National Museum and the National Center for the Promotion of Cultural Properties(hereinafter referred to as TNM and CPCP) with support from all your donations. TNM and CPCP aim to provide everyone with opportunities to encounter cultural properties. We also strive to build a society where many people can participate in activities aimed at passing these treasures of humanity down to future generations. This project forms part of this mission to mobilize the strength of individuals, companies and organizations to ensure our precious cultural heritage will be transmitted to the future.
Fund-raising target  15 million yen
*Donations will be used to fund restoration expenses and the running costs of the project.
*If donations exceed our target, the extra funds will be used to cover the cost of restoring other cultural properties in Tokyo National Museum's collection.
Fund-raising period  January 2020 – June 2022
*The Kōrin Kimono restoration is scheduled to finish in autumn 2022. 
FAQs/Inquiries
Q.What Kōrin Kimono Restoration Project events will be held?
A.Details of various events are listed on our 'Event Information' page. We look forward to your participation.
Q.Until when will you be accepting donations?
A.We plan to solicit donations from January 2020 to June 2022. Any change of details will be listed on our website.
Q.How will you use the donations?
A.They will be used to cover the project's restoration costs and operational expenses.
Q.Will the garment be exhibited after the restoration?
A.We plan to exhibit the kimono from 2023 onwards. The finalized details will be posted our website.
Q.How can I donate to the Kōrin Kimono Restoration Project?
A.Please donate here on this website. Donation box is also installed in next to Room 11 of the Japanese Gallery (Honkan) at the Tokyo National Museum .
A Message from Our Curator
Oyama Yuzuruha (Chief Curator of Decorative Arts, Tokyo National Museum)
According to records bequeathed to our museum, the Kōrin Kimono was purchased by the Tokyo Imperial Household Museum (Tokyo National Museum's predecessor) during the Meiji period (1868–1912). It came with a document attesting to its provenance. This document states that the garment originally came with no lining, just the outer fabric. A lining was then attached and the garment mounted as a kimono for display.
When I first exhibited the Kōrin Kimono, I was shocked by how damaged it was compared to photographs I had seen. The autumn flower pattern had such a graceful beauty when viewed from a distance, but a closer view revealed how the white lining had been sewed in using a ragged plain stitch in a manner almost reminiscent of the quilting on a traditional Japanese farming jacket. This plain stitch dates back to when the garment was mounted as a kimono after entering the museum's collection, but the extensive application of large white threads ended up obscuring Ogata Kōrin's brushwork. The fragile silk ground had also suffered wear and tear over the garment's 300-year history. It can still be exhibited today, but the plain stitch on the outer fabric is too strong and it is clear the silk ground will only grow weaker if no action is taken.
This is the only fully-intact garment featuring a pattern drawn by Ogata Kōrin. We now need to begin the necessary repair work to ensure the Korin Kimono can be passed down through the next 100 to 200 years.
Object Outline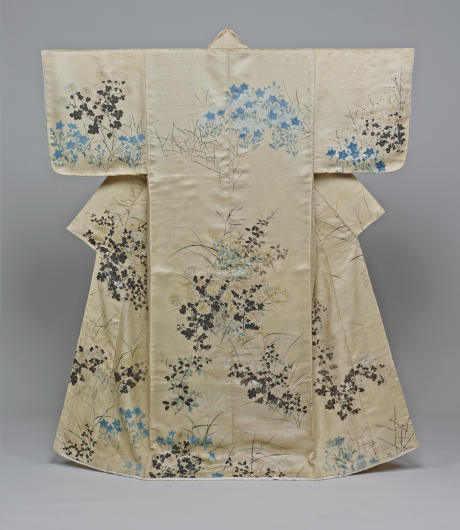 Important Cultural Property: Robe (Kosode) with Autumn Flowers
By Ogata Kōrin
L. 147.2cm yuki 165.1cm
Edo period, early-18th century (1701–1800)
The Important Cultural Property Robe (Kosode) with Autumn Flowers was designed by Ogata Kōrin, an Edo period artist who gave his name to the renowned Rinpa school.
Kōrin was born in Kyoto. He later went to Edo (as Tokyo was formerly known) and in 1709 he stayed at the house of a lumber merchant named Fuyuki family, located in the Fukagawa district. He drew this pattern for the wife of the merchant, which is why the garment is also known as the Fuyuki Kosode.
Garments with unique patterns or pictures painted directly onto the surface using ink or color were very popular among the wives of wealthy merchants. This trend explains why Kōrin was asked to draw this pattern on the kimono.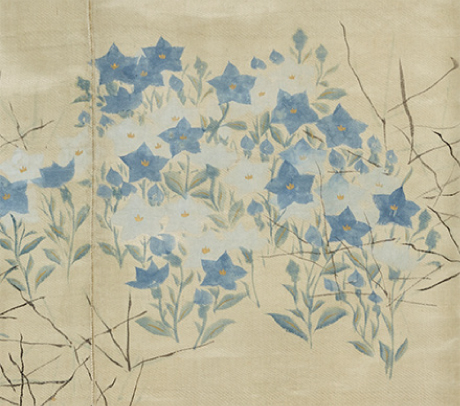 The back section features a vivid, well-balanced design of chrysanthemums, bush clovers and pampas grass. The gradations of indigo and black ink are accentuated by red and yellow shading.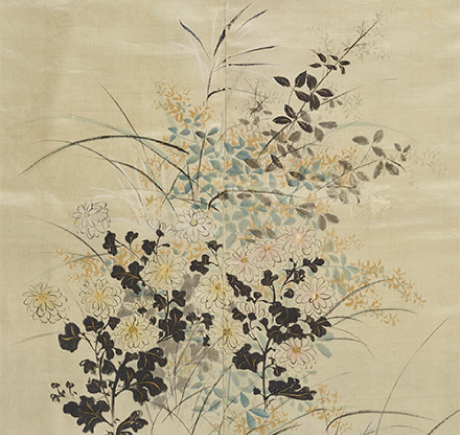 The back section features a vivid, well-balanced design of chrysanthemums, bush clovers and pampas grass. The gradations of indigo and black ink are accentuated by red and yellow shading.
The Kōrin Kimono features autumn flowers such as chrysanthemums, bush clovers, bellflowers and pampas grass, all rendered using different shades of indigo. Balloon flowers unfurl across the upper section, while chrysanthemums and bush clovers bloom wildly from the waist downwards.

A glance at the overall design reveals a blank section around the waist where the obi belt was tied. KKōrin's parents ran Karigane-ya, a kimono merchant that dated back to the Azuchi-Momoyama period (1573–1603). This probably explains how he was able to draw the pattern with such a clear image of how the garment would look when worn.
The Restoration of The Kōrin Kimono
East-Asian cultural properties are often made of fragile materials like wood, paper or silk. As such, they are prone to damage from light, heat and changes of temperature. At the Tokyo National Museum, we carefully control the heat, humidity, light, and the amount of harmful chemicals in the air to create optimal conditions for the preservation of these cultural properties, thus ensuring any wear and tear is minimized. However, restoration work is necessary if an object has suffered particular damage through the passing of time.
Periodic restoration work is vital for maintaining our cultural properties in a good condition and ensuring they can be passed down to future generations.

Tokyo National Museum has pursued ongoing remedial conservation work using funds allotted from its budget. However, budgetary constrictions have left many cultural properties waiting for restoration work.
The Kōrin Kimono has also deteriorated over the years to the point where several stains and snapped threads are now visible. There are also traces of plain stitch used during a previous restoration to reinforce damaged fabric. This is now leading to new damage.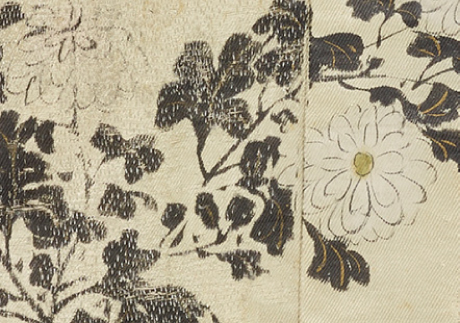 The white lining has been sewn up in a ragged manner using plain stitch.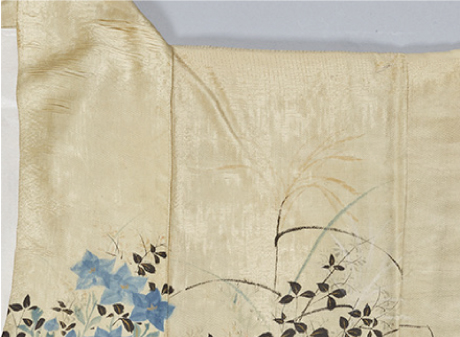 The ground is damaged from the collar to the shoulder area.
The restoration project will take place over a period of two years from 2020. It will begin with the disassembly of the outer fabric, followed by the removal of the previous restoration, reinforcement and repair work, and the application of a new lining. It will then be returned to the Tokyo National Museum.
We are hoping to raise 15 million yen in donations to ensure the Kōrin Kimono can be passed down to future generations. Will you help us reach this goal?
Benefits
The names of all Kōrin Kimono Restoration Project donors will be listed on our website (unless they wish to remain anonymous). 
Also donors who donate over 10,000 yen will receive other benefits as shown below. Thank you for your consideration.
¥150,000 or more
Lacquered goods set by Murose Kazumi
Name listing on the book which will be stored in perpetuity with the work
Invitation to the unveiling ceremony after the restoration work is completed
5 tickets to regular exhibitions
Name listing
From ¥30,000 to ¥149,000
Furoshiki featuring the donor's name
Name listing
From ¥10,000 to ¥29,000
Maki-e sticker
2 tickets to regular exhibitions
Name listing
All donors
* Limited to addresses within Japan.
* To be delivered by post (with postage costs covered by the CPCP).
* The furoshiki will be dispatched when ready, probably around 60 days after the payment is confirmed.
* The lacquered goods set (chopstick and chopstick holder with an original Kōrin Kimono design supervised by Living National Treasure Murose Kazumi) will be dispatched around springtime 2021. Applicants will be sent an exchange ticket upon confirmation of the donation.
* The aforementioned tickets and goods cannot be resold, used for sales promotion without the CPCP's permission, or used in other ways that are deemed similar to the above. The application will be invalidated and the donation will be returned if one of the aforementioned actions is found to have occurred.
* The benefit packages above may be subject to change if we run out of limited-edition gifts.
About Thank-you Gift
Lacquered goods set by Murose Kazumi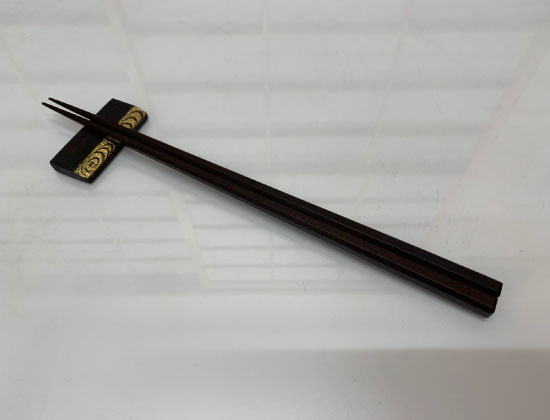 This photo is for illustrative purposes.
This project involves the restoration of Ogata Kōrin's
Kōrin Kimono
. The project is being crowdfunded and I have prepared some chopstick holders as a thank-you gift. The holders feature a maki-e design of the 'Kōrin swirls,' the central wave-like design in
Red and White Plum Blossoms
, one of Kōrin's masterpieces. The holders come with a pair of wooden chopsticks. These symbolize a bridge with water flowing beneath.
Kazumi Murose (Living National Treasure (maki-e))
Furoshiki featuring the donor's name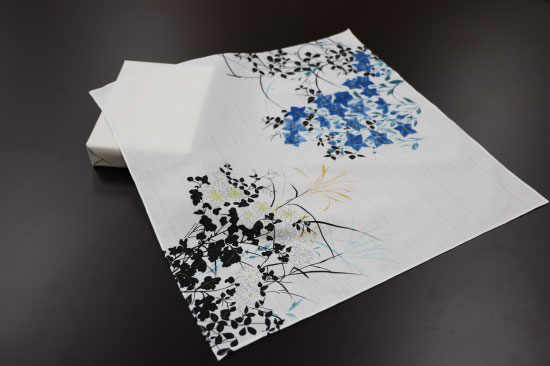 I was allowed to help out with the
Kōrin Kimono
reproduction project. I was entrusted with the dye work for the project's small
furoshiki
wrapping cloths. I tried to ensure the atmosphere and exquisite design of Ogata Kōrin's kimono remained intact. I paid particular attention to the colors of the balloon flowers during the dyeing process as I strove to bring this important piece of Japanese history to life in these furoshiki cloths.
Sugishita Eizi (dyer; Sugishita Ltd)
Maki-e sticker
As a manufacturer of the gold powder used in the maki-e process, our company developed 'transfer gold maki-e' during the Edo period to communicate the charms of maki-e to more people.
Kōrin also worked with maki-e, so it was a joy to work on this project while imagining how the autumn flowers design would appear in maki-e.
It would give me great pleasure if people transferred this original Kōrin design onto their mobile phones, hand mirrors or other treasured items.
Watanabe Yukiko (G&S Co., Ltd.)
Inquiries
The Kōrin Kimono Restoration Project Team
e-mail:
Information Based on the Specified Commercial Transactions
Operational Organization
National Institutes for Cultural Heritage
Operational Director

Kashiwada Akio

, Secretary-General
Address

13-9 Ueno Park, Taito-ku, Tokyo 110-8712, Japan

Telephone Number
+81-(0)3-5834-2856
Fax Number

+81-(0)3-5834-2857

URL

https://cpcp.nich.go.jp/?lang=en

Application and Payment Method,Other Fees
Please access this page.
Time of Payment
When confirming the donation.
Time of Shipping, Return and Exchange Policy
None
Privacy Policy
Please access full policy from this page.
Details on Preferential Tax Treatments
Taxation on Contributions
The Independent Administrative Institution National Institutes for Cultural Heritage is a designated public-service promotion corporation. As such, individuals and corporates making contributions to National Institutes for Cultural Heritage can receive preferential income and resident tax treatment separate from other general donations. Contributions to The Kōrin Kimono Restoration Project are eligible for this preferential tax treatment.
*If you pay income tax in Japan and wish to receive a Certificate for a tax deduction, please refer to the Inquiries tab to contact us after confirming your donation.
How to Apply for Preferential Tax Treatment
Please submit the Donation Acceptance Certificate or the Receipt issued by National Institutes for Cultural Heritage when filing your taxes. These documents are needed to receive preferential tax treatment, so please store them securely.
About Preferential Tax Treatments (Deductions)
Contributions to designated public-service promotion corporations are eligible for the following preferential tax treatment.
Individuals
When an individual makes donations to a public-service promotion corporation, the amount paid is treated as a "designated donation" and a certain amount is subject to tax deduction following appropriate procedures. This system allows either [the sum of total donation made during the year] or [Amount equal to 40% of total income] (Applied to the lower amount of the two) minus 2000 yen to be deducted from taxes.

Ex)
If total annual income is 8,000,000 yen:
40% of total annual income = 3,200,000 yen
Tax deducted in this case is calculated as follows:
If total amount of donation is 50,000 yen; (50,000 yen - 2,000 yen = 48,000 yen)
If total amount of donation is 4,000,000 yen; 3,200,000 - 2,000 yen = 3,198,000 yen
Corporates
When a corporate makes donations to a public-service promotion corporation, the amount paid can be listed separate from standard donations to receive preferential tax deduction. In addition, the revisions to the tax system in 2012 raised the deductible amount limit to allow for a further preferential treatment.
⇒Deductible tax amount = (Capital fund x 0.375% + 6.25% of Gross Income) x 1/2
How to Donate
Payment by credit card
Enter the donation amount, fill in required items(*)and select 'Add to Cart' on the page of the project you wish to support (donors can make multiple donations).
After checking the 'Cart Contents' on the cart page, please proceed to checkout.
Please fill in the necessary information(*)

.

After checking all the details on the 'Checkout' page, please confirm your donation.
*We accept the following cards.

*Notes regarding credit card payments
Credit cards can only be used by the person who owns the card.
Payments in multiple installments are not possible.
As a general rule, changes cannot be made and funds cannot by returned after a payment is made.
The payment will be taken from the designated account on the date determined by your credit card company. Please consult the statement issued by your credit card company for details.
Please contact your credit card company if an error occurs after payment is made.